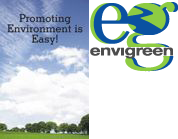 Under Envision IT banner, we developed 30+ software and Integrated products. These products are now marketed and supported under the Envigreen brand. Envigreen offers a family of five packaged products, based on Web, MS .Net, MapPoint Expertise and user behaviour to provide programs to promote environment in workplaces and bring in behaviour change. The programs are based on two concepts. first when people realise they are valuable, they will do better and Second, spill over that when someone does better in part, she or likely to better in other areas as well. The spill over effect is well acknowledged and is often attributed to people becoming better individuals.
Envision & TravelSmart Carpooling

Envision & TravelSmart Carpooling Programs are designed to facilitate Carpooling in Workplaces and Communities. These carpooling programs are stepping stones for a workplace or community's journey towards sustainable practices. The programs are Internet / Internet based and use on MS .Net, Mapping, Databases, IIS and Email system of customer.
Envision and Carpooling programs are regularly upgraded and the current versions offer smooth Silverlight controls and interesting use of Mapping for making Carpool Matches. more>>

Envision Green Travel takes the Carpooling a step further and the program involves both the people who want to carpool as well those who use other modes of green travel e.g. walking, cycling or using public transport. This is a Recognition and Rewards based program that recognises the effort put in by participants and rewards them.
Envision Green Travel is one of the most popular programs today. Its current version supports multiple organisations, smooth Silverlight controls, dashboards and interesting use of Mapping for making Carpool Matches. more>>

Going Places provides a platform for building community around sustainability. The program involves people who carpool, use green travel and those who don't. It also includes people outside a workplace such as local businesses who become active members of the program by providing rewards. The program encourages building of a community while providing a platform to Program Managers to connect to an understanding audience. more>>

EnCarp is our Flagship product and unique in many ways. Encarp eases car parking for users while making it efficient and more productive for workplace administration or commercial operators. The product deploys its unique bay booking system to allocate Car parking spaces while mapping out the Carpark as well as the business to make administration and accounting painless and easy to manage. more>>

Our local Software Development Facilities in Melbourne offer you an easy and unmatched cost effective way to develop projects, within budget and time and without any risk. Please call Steve at (03) 9802 5516, email - steve@coexl.com.au to discuss your software and IT requirements and how we can assist you.