Coexl Technologies are former Oracle Gold partners specialising in Oracle Fusion based applications and SOA Software Development. As Gold Partners, backed by Oracle Fusion Team in Melbourne, we have set up a competency centre for Oracle Fusion Applications, suitable for large long term application development in Melbourne.
Our Oracle Fusion Development Competency Centre in Melbourne brings you expert developers in Oracle Database, Oracle Access Management (OAM), Plug Ins, Easy and Smart Reporting, Architecture, JD Edwards, Oracle Financials.
Oracle Fusion Competencies are expensive to maintain. One of the offering we make is to acquire in-house Oracle Development and deliver you Oracle Fusion Services on outsourced, on as and when required basis.
Coexl complements Oracle Fusion development with MS Report Server and specialises in Internet Application Development as well. When you are looking for a reliable and cost effective solution for your Oracle fusion and Web Application Development needs, Coexl is the answer.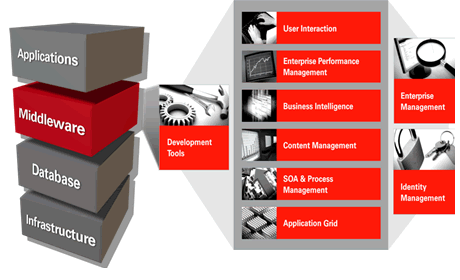 Oracle offers Complete Industry Solutions with more value and less complexity, because Oracle has assembled best in class industry portfolios. As Oracle Fusion Middleware Experts, it's our job to make them work together on an open platform.
Oracle 11g is designed to exploit the latest in technology today e.g. Multi-core processors, 64 Bit Systems, Virtualisation and Clouds and Large Storage. While Oracle Fusion Middleware applies well to:
Rich Internet Applications - Our Special Expertise

Business Process Management

Enterprise Team and Social Computing

Application Customisation - Our Special Expertise

Identity Management and Compliance

Systems Consolidation
Oracle Fusion Middleware delivering Rich Internet Applications
We assist our customers develop rich Internet Applications with:
Our Oracle Fusion Middleware practice resolves the obvious flaws in Internet Applications in large enterprises such as:
Oracle Fusion Middleware for Application Customisation
No application is complete and as the user wants. We apply Oracle Fusion Middleware for customising Applications to:
Extend enterprise applications

Composite application development

Bespoke application development

System/Data Integration

Unified tooling
Our efforts assist our customers in:
Protecting enterprise application investment

Extending the life of enterprise applications

Extending the functionality of enterprise applications

Composites for visibility

Lack of Agility