Coexl association with Oracle began with its inception owing to involvement of its Director with Oracle for decades. It became Oracle partner in 2002 and progressively attained Gold Partner status in 2009.
As former Oracle Gold partners, selling Oracle appliances is integral to Coexl business. However being Oracle Reseller may conflict with consulting services and advice that Coexl may offer. It is for this reason, Oracle Licensing is managed of its own, apart from consulting services. As proven elsewhere in business, pure licensing model facilitates better advice and prices for clients.
Our Oracle Licensing Consultants specialise in Oracle Licensing and understanding your business. They make use of their decades of knowledge of business systems and Licensing models while making proposals that would save you money. While doing so, they also keep in mind the trends and present scenarios such as Social Media, Cloud Computing, Mobile Enablement, Quick and Fast Access, BYOD, Virtual Machines, Multicore Processors and many other nuances.
Mergers, Acquisitions, Demergers and Splits are another important aspect of licensing. In present fast lane economic scenarios, businesses change shape, size and ownerships fast. Many a times, there isn't enough time to consolidate assets or review repercussions on licensing arrangements. This applies both to Clients as well as vendors. An 'open source' free product may become licensed and a licensed product me become 'open source'. Many a times, an open source product may not be free as well and may require licensing fee!
On technical side, we need to consider many factors while looking at Oracle License rationalisation, upgrade, new purchase or cross grade into other products. Few important things to consider are:
Impact of this upgrade on existing Applications - Would it mandate upgrading applications developed on it? If so, then cost of this upgrade should be factored in.

Other Impacted Applications: The Upgrade may impact the applications developed on it and then those applications may have interfaces with other applications. This should also be considered.

Hardware Requirements: The new licenses may mandate new hardware and Operating system. This will also need be considered. Hardware costs should include hardware and installation of new operating system and Oracle software. I

Productivity, Efficiency and Response Time Requirements: When investing, stakeholders will look for faster response and associated productivity gains. t would be important to consider Oracle Optimised hardware such as Exadata, Exalogic to maximise efficiencies.

Cost and Time Constraints: We must consider cost and time constraints. In some case, it would be good to move backwards i.e. decide on main requirements, time and cost and then move backwards.

Data Migration: Data is associated in all the above and policy may have to be decided to upgrade what data to which format.
Coexl Advantage for Oracle Licensing
Coexl advantage in Oracle Licensing lies in:
Expert Professional Advice: With decades of experience, we bring you holistic solution that cover all aspects of your purchase. This helps you plan better and save unnecessary expense.

Small, Agile and Flexible: We are small, agile and flexible meet your requirements. We can move very fast, quickly immerse into your environment, flexible to develop solutions to overcome challenges that may emerge.

Resourceful: Though small, we are highly acclaimed and resourceful vendors respected by industry. As proven elsewhere, we are highly valued by Oracle distributors who look forward to us being their leading resellers. Our 11 years stay in Industry has equipped with alliances and resource network that will enable us bring the right resources in time of need.

Trusted by 600+ Clients: We are trusted by 600+ clients and we are sure you would be one of them.
Why Upgrade Oracle Database? Oracle Database 11g offers many advantages to improve your systems and reduce time, effort and costs associated with day to day operation. Oracle Database 11g will enable you to Upgrade with zero downtime. Oracle 11 G will significantly improve application performance and provide higher levels of security to manage emerging threats of the day. Surprisingly when the data is exploding, Oracle 11g will smartly reduce storage required. This means further saving in time and better stakeholder management. To know more, register for this webinar from Oracle itself: Improve application performance and database security
Oracle Database Editions:
Here we seek to demystify Oracle Database Editions to enable you select the version appropriate for you. http://www.oracle.com/us/products/database/product-editions-066501.html
Oracle Database 11g Express Edition.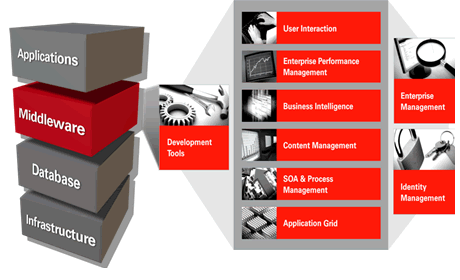 Oracle offers Complete Industry Solutions with more value and less complexity, because Oracle has assembled best in class industry portfolios. As Oracle Fusion Middleware Experts, it's our job to make them work together on an open platform.
Oracle 11g is designed to exploit the latest in technology today e.g. Multi-core processors, 64 Bit Systems, Virtualisation and Clouds and Large Storage. While Oracle Fusion Middleware applies well to:
Rich Internet Applications - Our Special Expertise

Business Process Management

Enterprise Team and Social Computing

Application Customisation - Our Special Expertise

Identity Management and Compliance

Systems Consolidation
Oracle Fusion Middleware delivering Rich Internet Applications
We assist our customers develop rich Internet Applications with:
Our Oracle Fusion Middleware practice resolves the obvious flaws in Internet Applications in large enterprises such as:
Oracle Fusion Middleware for Application Customisation
No application is complete and as the user wants. We apply Oracle Fusion Middleware for customising Applications to:
Extend enterprise applications

Composite application development

Bespoke application development

System/Data Integration

Unified tooling
Our efforts assist our customers in:
Protecting enterprise application investment

Extending the life of enterprise applications

Extending the functionality of enterprise applications

Composites for visibility

Lack of Agility